Senior level SME in CyberSecurity, Anti-terrorism, Force Protection and Emergency Management.
Extensive senior government experience at local, state and federal levels.
Extensive senior experience embedded with U.S military at National Guard and active services.
Award winning writer, editor, graphic designer and website design and management.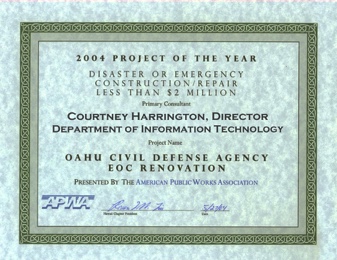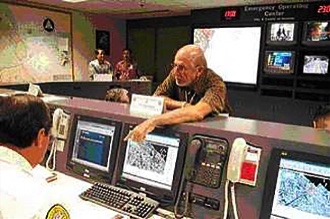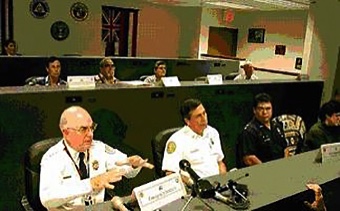 Emergency Management is the planning and preparation for an emergency or disaster. Most disasters are weather related, such as hurricanes, tornadoes, high wind or flooding. Some give early warning and some do not.
But responsible emergency managers must also be prepared to deal with civil unrest, plant fires or explosions or anything that threatens life or property.
Once the event has happened, the emergency management organization oversees response and recovery with all resources available. It is, of course, much more complicated that this and the recovery phase can last months or even years.
I have decades of experience with Emergency Management, starting as the chair of the Oahu Civil Defense Agency Commission for 9 years.
I was the head of the Emergency Broadcast System and wrote disaster plans involving communications to the public for their protection. During my tenure with the City and County of Honolulu I was the security and response advisor to the Mayor. I was also an emergency responder and this continued until 2015.
I was appointed as the chair of the FCC mandated State Emergency Communications Committee (SECC) in the late 80's. This committee is required by federal regulation to write the policies and procedures and oversee the Emergency Alert System and the Wireless Alert System in coordination with the various state Emergency Management Agencies. I am still the chair.
I have the relevant training and certificates from FEMA and the FCC.
Following 9/11 I was tasked by the Mayor to design and oversee construction of a new Emergency Operations Center (EOC) for the City and County. I designed the new EOC and from conception to open-for-business the project took 9 weeks and it won a national award for emergency construction. A half dozen cities and states requested copies of the design so they could incorporate it into their EOC renovations.
To put this in perspective, Honolulu has a population of over 1-million and is the 12th largest city in the United States.